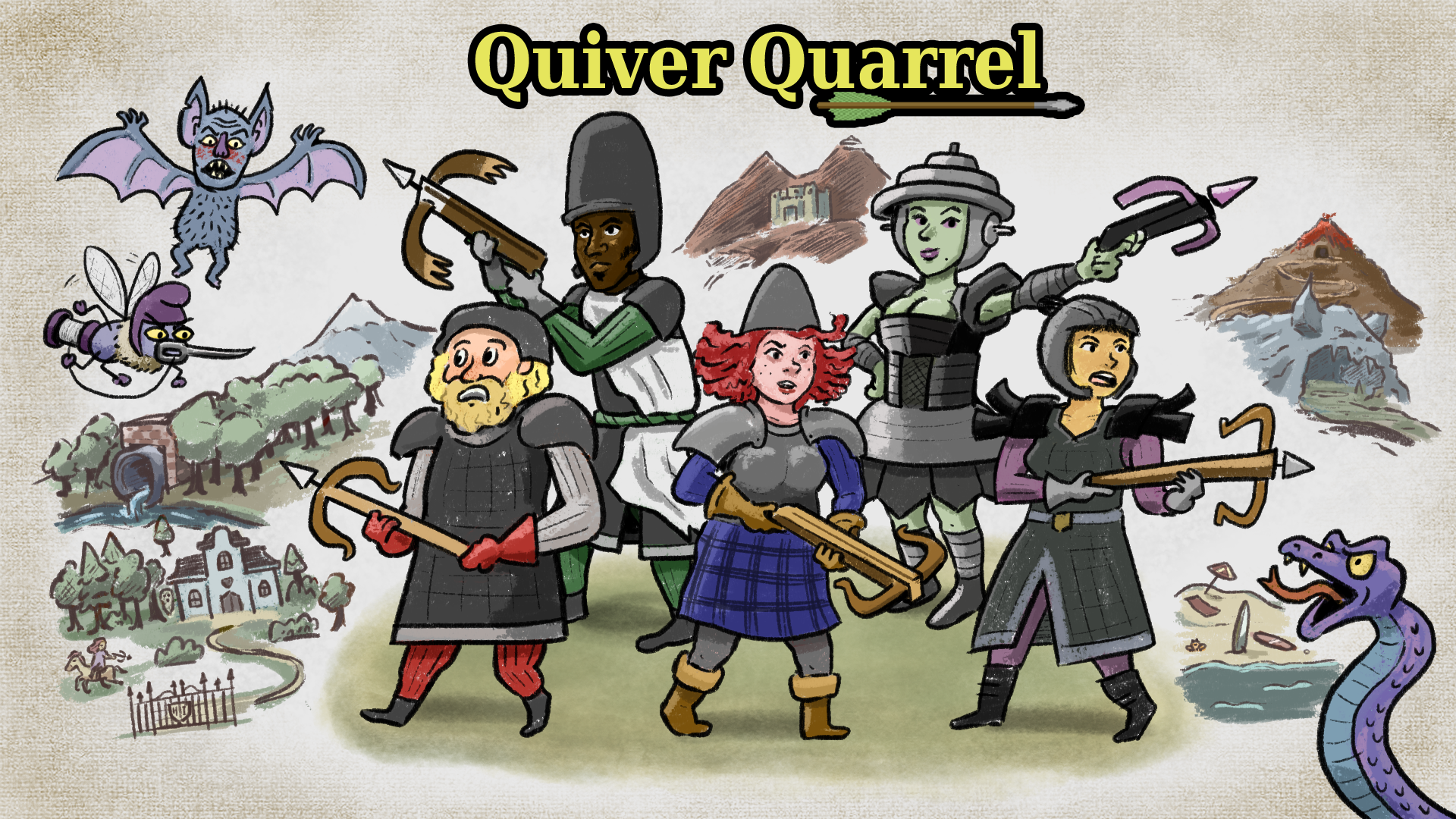 Quiver Quarrel
A downloadable game for Windows and Linux
Greetings! I am thee Lady Itgoing of thee House Itgoing. I want to tell you about five friends of mine who embarked on a long and perilous quest to save thee Royal Children from thee clutches of a dangerous alien invasion...

Meet Jabali, Fumiko, Llwyd, Regan, and Elvis... Five of thee most fearfilled Crossbow Quarreler's in thee Royal Army. What are they good for? Unfortunately, not much. Mostly babysitting. But yea, all that is sure to change!





Guide our five quivering quarrelers through thee Royal Acreage toward thee UFO hanging over thee peak of Mount Dain Gereuse. Choose among innumerable courses—featuring a lush forest filled with secret pathways and hidden entrances, a hot-bed volcano at thee brink of eruption, a sunny and sandy surfer's beach, and many more!—(or visit them all) on your quest to save thee children from whatever dark fate awaits them in space.

Quiver Quarrel is a top-down action game that sees you controlling all five knights simultaneously.
Navigate our heroes past monsters and lethal traps with your wits and your trusty crossbows to keep you safe!
Choose your own journey through thee treacherous terrain of thee Royal Acreage. Sewers, forests, swamps, beaches, caves, volcanoes, and snowy peaks!
Face off against a technologically-adept race of space-faring xenophobes!
Retro pixel art in the classic Atari 2600 color palette!
All-original OST of lovingly-crafted chiptunes!
Support me, a humble pride of Lions!

Download
Click download now to get access to the following files: